by Nick on Aug.31, 2009, under Latest Babble
I'm not quite sure how we are ever supposed to really look out for a film. Do we subconsciously work out that it's got a good cast so it should be good? Does the title draw us to it? Do we search the net looking for new films to add to the must see list? Or, is it up to the studios to bombard us with all types of media punting the film – trailers, TV spots, radio spots, viral advertising, website links and cool posters. I don't know. But it's an interesting discussion to have, because it is a very important part of getting people into queues to buy tickets. Recently Michael Bay complained that the marketing campaign for Transformers: Revenge of the Fallen wasn't up to his expectations. It didn't matter to me. I had seen the first film and was going to be the first in line to buy 20 tickets for me and my mates to the local premiere. Posters and trailers, or no posters and trailers – the 20 of us were going. It didn't seem to matter to the rest of the world whether the campaign was good or not either – it's closing in on the $1 Billion dollar mark world wide and is already the 9th highest domestic grossing film of all time in the US with almost $400 Million. (It only cost $300 Million to make!). We call that a successful movie. The critics tore it to shreds and over the opening weekend it didn't get one positive review that I read. Didn't matter, the uber-genius that is Michael Bay (one of my Top 3 greatest directors of all time) gave the fans what they wanted – and that's all that counts. But enough about TF2 – that review will follow over the next few weeks.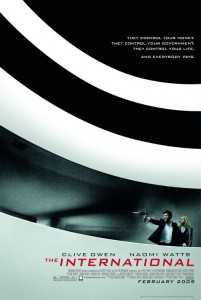 The above brings me to today's review, THE INTERNATIONAL, with Clive Owen and Naomi Watts. I heard absolutely nothing about this film, but saw a trailer for it on a DVD that I imported from the States. It looked incredible. And, I'm a big fan of Clive Owen. Ever since I saw him in THE HIRE (the 8 BMW short films produced by 8 different Directors with 8 different casts [awesome casts] back in 2003) which show-cased the latest and greatest vehicles from BMW. Owen was 'the driver' for 'hire' and was the only actor to appear in all 8 films. He has had a terrific upsurge in Hollywood appearances since then and in my opinion hasn't really had a dud performance through his career although many will argue that Shoot 'Em Up was the one that required the least effort. But, if you took that film, with a bag of salt and tongue firmly in cheek and enjoyed the cheese on the side, it was a good action film. (Paul Giamatti had the most fun with it!). We forget that Owen has been making movies since the late '80s… and since 2000 we've seen him in Sin City, The Bourne Identity, Closer, Gosford Park, Inside Man, Derailed, King Arthur, Beyond Borders, and Duplicity. Those are good movies!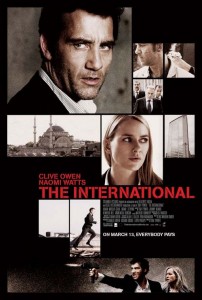 Back to THE INTERNATIONAL. Made in 2009. The story of an ex Scotland yard cop, who for one or another reason (we never really find out the full story) is dismissed and joins Interpol. With the help of a NY assistant DA (played by Watts), they decided to try and bring down one of the worlds biggest banks – the IBBC (Fictional International Bank of Business and Credit) – whom they believe are an arms dealing group, buying weapons from around the globe. The IBBC then funds and supplies terrorists and African 'Lords of War' (I prefer saying it my way!). The upside for them being that by funding terrorism, causing coups and war, the country feeling the backlash wall fall deeper into debt with them. Those who control the debt, control 'everything'. Interesting story. Scary at the same time, because 'everyone' is involved. How do you stop a business of that size when 'essentially' it serves a purpose? Not easy… as Owen's character begins to find out.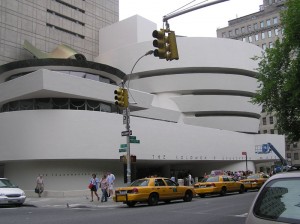 The film is a very tense thriller, along the same lines as 'The Firm' where you constantly feel that everyone is involved and Owen is the only one who doesn't have a clue. It has only sporadic bursts of action but is never slow… rather building pace as every minute passes. The Guggenheim (The Solomon R. Guggenheim Museum in New York – one of the 20th Century's most impressive architectural landmarks) shoot-out is pretty spectacular. Apparently they built a full scale replica which they were able to 'turn into swiss cheese'.
Although I had a feeling that Owen's character had a hidden, special forces/James Bond/Liam Neeson in Taken background which he was going to turn to when pushed – he is anything but a hero. This is shown in various sequences throughout the film where he is very uncomfortable with weapons and being shot at constantly. He becomes a man forced over the edge looking for justice.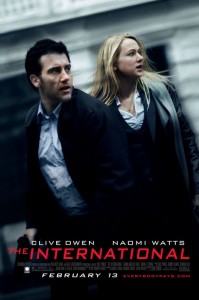 It's a very impressive film and has a great supporting cast. My favourite of the lot is Armin Mueller-Stahl who can play a character with a presence of calm yet so calculated and evil like no other. See 'Eastern Promises'. He is a superb actor and someone who's work I shudder to say I know very little about – except to say he has a face I know I have seen in plenty of films. I shall seek out more of his work.
The German director, is Tom Tykwer whose only other work I know is Paris, Jetaime and Perfume. The International was released at the Berlin Film festival (the city where a large portion of the film takes place). "Sometimes a man can meet his destiny on the road he took to avoid it." – a quote from the film. I'm glad the road I chose to take to see this wasn't the norm, it made for a great surprise when I finally found it… for love of the movies.