by Nick on Sep.07, 2009, under Latest Babble
I must confess to having a huge love/hate relationship with Mrs. Voorhees, her son Jason and this specific day. From the time I was introduced to this film (and it's seemingly countless sequels), by a childhood friend named Ashleigh Greene, I have always marvelled at the way Hollywood can conjure up these frightening and unstoppable movie maniacs. I love horror movies, I absolutely love them. There is something special about having the shit scared out of you for 90 minutes and then being able to switch off the TV and meander back into reality. It was something special that I wish I could have learned at a younger age. The hate part of this relationship, is the fact that I couldn't switch my mind off and had vision of these crazy bastards diving through my bedroom window, or come crashing through my ceiling at 2am. Countless mornings through my child-hood, I found myself waking suddenly with a thump… as I raised my head at rapid speed and had it meet with the bottom of my parents bed! I only wish I had CCTV camera footage of my leopard crawling tactics (pillow in teeth and blanket wrapped over shoulder) as I made my way undetected out of my bedroom and under my folks bed. Of course, the logic behind this had been naive, as the first place Jason would have looked… was under a bed!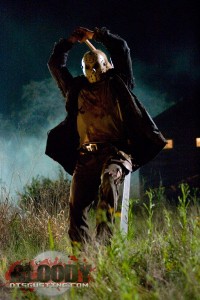 For me there have only ever been the 'Big 3′ in the horror world… Michael Myers, Jason Voorhees and Freddy Kruger. These dudes are serious contenders. They have all stood the test of time. Michael came back on Halloween night a total of 7 times and then had a jump start courtesy of Rob Zombie in 2007 - which has already spawned a further sequel, coming out this year. Fred's classy statement, 'Every town has an Elm Street' was not far from the truth and our favourite horribly burned janitor (with blades for fingers), sliced and diced his way through 8 films. Freddy is getting his re-make this year. And finally, Jason dispatched numerous 'sexed up' and 'drugged up' teens a total of 10 times (his tenth outing was in space!) prior to his 11th film's royal rumble with Mr. Kruger in Freddy vs Jason (a surprisingly well made and highly entertaining film). And, only early this year was it time for him to clean up and get a new hockey mask.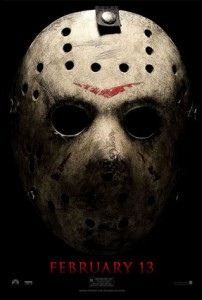 Friday 13th has always been a cut above your basic Hollywood horror slasher film – at least I've thought so. It does however keep the basic plot of serving up a group (or two) of very good looking teens to be chased around and chopped up. The new film is definitely not short on that… and horror aficionados will also get their dose of gratuitous nudity and sex. It's a prerequisite for a film of this genre. The cast are all young and up and coming… Jared Padalecki (House of Wax and Cry Wolf – no stranger to the genre!), Danielle Panabaker (whom I thought was outstanding in Mr. Brooks), Amanda Righetti (Role Models), Travis van Winkle (Transformers where his 'little bunny' was Megan Fox), Aaron Yoo (21 and Disturbia), Jonathon Sadowski (upcoming The Goods: Live Hard, Sell Hard), Julianna Guill, Arlen Escarpeta, Ryan Hansen (Superhero Movie), Ben Feldman (Cloverfield) and Derek Mears (Cursed and Hills Have Eyes II) as Jason.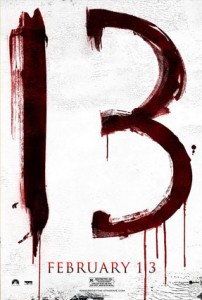 The film essentially combines the original Friday 13th Parts 1 and 2. The films first opening credits covers Mrs. Voorhees going bat-shit mad and killing off the Camp Crystal Lake counselors. Mrs. Voorhees places the blame (of her son Jason drowning) on the shoulders of the counsellors who at the time where sky high on dope and shagging like rabbits in Spring time. The truth is, that Jason never drowned and rather went into seclusion, hiding in the forrest surrounding the lake because of his less than attractive looks.  Jason however witnesses the remaining female counselor lopping his mom's head-off with a machete. This upsets him greatly, and he picks up his mom's head and the machete and follows her lead by ensuring the area is teen free in the future.
In the following 20 minutes, we  meet the first group of teens on a camping trip in the region, who hope to find a secret marijuana plantation and get rich by harvesting it and selling it. It's your basic initial kill fare; group set up camp, spare wheel friend heads off into the darkness, whilst his one mate does his girlfriend in the tent and the other couple head off to explore the old camp site. Jason arrives and all hell breaks loose. What we don't discover until later, is that one of the group is Whitney Miller (Amanda Righetti) and happens to be our protagonist, Clay Miller's (Jared Padalecki) sister. The film is about Clay's journey to find his mysteriously missing sister.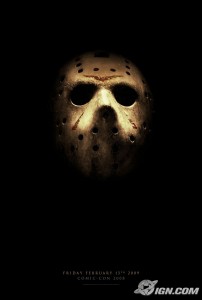 Enter the second group of teens and a lone biker, Clay. This new group are taken to a luxurious cabin on the waters edge, owned by the parents of Travis Van Winkle's character, Trent. He's a rich, obnoxious jock (basically the same role he played in Transformers) who is simply showing off his wealth to his transparent friends. They happen to know what he's doing but simply use him for the weekend getaway and expensive toys at their disposal. Trent's girl is Jenna (Danielle Panabaker). At a gas station on the way to the cabin, they bump into Clay who is handing out posters about his missing sister, Whitney, who was in the area about 6 weeks prior. There was a full investigation but the police came up empty handed and believe that Whitney ran away with her boyfriend.
As the day progresses, and the group splits up across the lake, the film really begins… as Jason heads out on the rampage and a host of incredibly creative kills takes place, as his chops his way through the supporting cast. We have a wonderful topless wake-boarding scene which doesn't go down well with our 7 foot, 300 pound hockey player. He does his best Robin Hood, and stops the driver of the boat in his tracks… leaving our topless buxom beauty floating in Crystal Lake. The scene where she's hiding under the jetty is a classic Jason kill.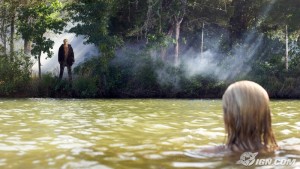 Jenna joins Clay in helping him find his sister, whilst those remaining at the Cabin get themselves into compromising situations, whilst alone and in dark rooms. These areas are where our Hockey player tends to lurk. Later we discover that Jason has an underground tunnel system and has actually been holding Whitney captive because she looks like (and reminds him) of his mother. It helps that she found a locket in his old bedroom (in the first 20 mins of the film) which has a photo of him and his mom in it.
It's now up to Clay and Jenna to rescue Whitney and finally put the big boy down on the ice and score a goal for the visitors team. Easier said than done. Everyone will be listening out for the 'ki ki ki chi chi chi'  theme … and whilst it is rarely used, it's still awesome. There is also the classic ending from the original that the new producer and new director of the film decided to keep and it's also used to brilliant effect.
Michael Bay's Platinum Dunes production company (which seems to have been started for the sole purpose of remaking horror films), along with New Line Cinema, have redone horror classics like The  Texas Chainsaw Massacre [and it's prequel], The Amityville Horror, The Hitcher and A Nightmare on Elm Street – and now re-team with Director Marcus Nispel who did their remake of The Texas Chainsaw Massacre.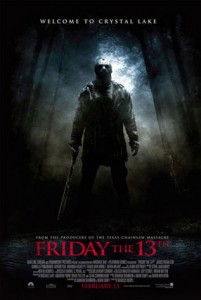 It's a very stylish, well polished and highly entertaining film and you can see that it has far superior production value. The dynamic team behind the film have a clout that easily outranks and kicks the normal, low budget schlock (that gets churned out of Hollywood too easily) into touch.
Having said that, I still felt it lacked a little something, which I currently am unable to put my finger on… so I will watch it again. I give it a healthy 7/10 for love of the genre and the fact that I woke up in my own bed this morning without a bump! Maybe that's the problem!?