by Nick on Sep.09, 2009, under Latest Babble
I don't care what anybody else says, but Mickey Rourke is a Hollywood legend. It's as simple as that. The man has been churning out awesome performance, after awesome performance (regardless of whether he has had a leading role or a cameo) for 30 years. His first role in a movie happened to be in Steven Spielberg's, 1941, back in 1979… but you're forgiven if you didn't know that, because it's a 'blink-and-you'll-miss-me" part. The first film I actually remember him in was 'Diner' from Barry Levinson, about a group of younger guys finding their way into adult life. It also starred Steve 'Mahoney' Guttenberg (Police Academy), Kevin Bacon (the most under-rated actor of all-time) and Paul Reiser (Mad About You). It was a great film.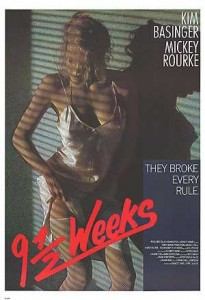 I then followed him through Rumble Fish with Matt Dillon, Year of The Dragon (a real gem), 9 1/2 Weeks (which I'll admit I was watching more for Kim Basinger's nudity and striptease to Joe Cocker's "You Can Leave Your Hat On") and then the film that secured my opinion of this guy being one of the greatest actors that ever graced the screen, Angel Heart, opposite Robert De Niro. If you haven't seen his performance in this film, or the film itself, you have lost out. It was directed by Alan Parker and is truly a screen classic. You have to pay attention to the story, but  it's well worth it. Go and find it, and watch it.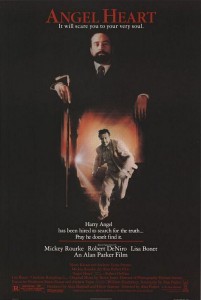 Then we had Johnny Handsome (he played the deformed gangster) which was followed by one of my favourite films of the early 90′s - Harley Davidson and The Marlboro Man - in which he played Harley opposite Don Johnson's, Marlboro. In my opinion, this film should have come out in the late 80′s to allow it gain it's place amongst the rest of the action films from that decade. It would have had more of a following. He then did, White Sands, opposite William Dafoe and Samuel L. Jackson. Also a very good film. But, I then lost touch with him until the mid 90′s when I saw him delivering the best (performance) in an otherwise forgettable film, Bullet.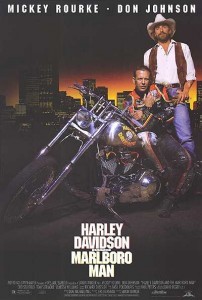 If anyone decided to argue with me about my opening statement, they could probably gain a small piece of ground due to 1997′s "Double Team" in which he played the villain, Stavros, opposite JCVD (Jean Claude Van Damme). However, I still argue his performance was faultless. Through the the late 90′s and early 2000′s, he had small roles (and cameos) in The Rainmaker, Thursday, Animal Factory, Get Carter, The Pledge (great performance), Spun (another noteworthy performance), Once Upon a Time in Mexico and Man on Fire. Many in Hollywood had however, already written Mickey off, until he had a resurgence in Sin City as the brute Marv, and then Ed Moseby in Tony Scott's "Domino". Both cemented the fact he could act and Hollywood started taking notice again. It was about bloody time!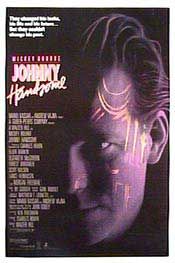 Hollywood can break you, faster than it makes you. And, Mickey was no exception to this rule. His personal life, feelings about Hollywood and then character trait faults ended up in a turbulent fall from grace, until he unfortunately hit rock bottom. In the early to mid 90′s he actually climbed back into the boxing ring (something he had trained for in the late 60′s and 70′s). This was an odd time in his life and was the reason he only made sporadic appearances in film over the period. He actually went pro and was heading for a title fight but threw in the towel (with an undefeated record) before he reached his target. The boxing caused severe facial damage, which he has had numerous operations to repair – the reason he looks like he does today. Prior to his resurgence in Sin City and Domino, he lost everything he had (wife, house, money and friends) and Hollywood forgot about him. He actually became such a contentious issue with studios, that they wouldn't sign him and nobody would back him. It was the toughest part of his life.  He battled inner demons and turned to all the poisons that path had to offer. But. he has came out clean on the other side…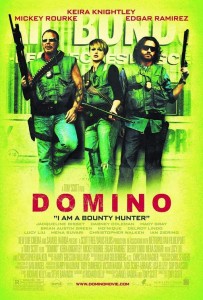 In 2008, director Darren Aronofsky (Requiem for a Dream), madeTHE WRESTLER. The story had been written for Mickey and Darren wouldn't do it without him. It's the story of Randy 'The Ram' Robinson. 20 Years ago, a successful, famous and recognised professional wrestler but today an ageing, deaf, has-been who lives in a trailer-park and 'eeks' out an exsistence through a few low-key match-ups followed by only his die hard fans. He is a man living on former glory, because it's all he has left. He lives alone, has nothing and therefore lives for the ring. But, he is forced to look at life outside of it, when he has a severe heart-attack. The doctors save his life but advise him that his world of steroids and high-flying, brutal bouts are over. He is forced to try another path, and quickly tries to tackle the issues he has never needed to deal with outside of his world of wrestling. He tries hard to reconcile his relationship with his estranged daughter (played by Evan Rachel Wood) and also to find love with the only other woman he knows, an ageing stripper (played by Marisa Tomei – whose performance is also awesome in this movie). He also gets a job working behind the meat counter in a grocery store. All three of the new interests in his life seem to be going well but slowly unravel and fall apart. The problem being that no matter how hard he tries, he cannot control his real life as well as he could control his domain as master of the ring. With images still playing in his mind of whom he once was, against those of whom he is becoming, he makes a devastating choice. He would rather die in the ring as 'The Ram', than simply fade away and die alone as a nobody…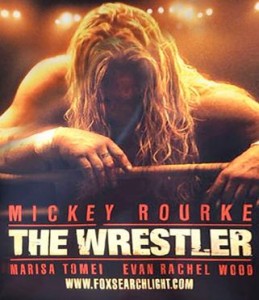 "I just want to say to you all tonight I'm very grateful to be here. A lot of people told me that I'd never wrestle again and that's all I do. You know, if you live hard and play hard and you burn the candle at both ends, you pay the price for it. You know in this life you can loose everything you love, everything that loves you. Now I don't hear as good as I used to and I forget stuff and I ain't as pretty as I used to be but god damn it I'm still standing here and I'm The Ram. As times goes by, as times goes by, they say "he's washed up", "he's finished" , "he's a loser", "he's all through". You know what? The only one that's going to tell me when I'm through doing my thing is you people here!"
The film is a masterpiece and Mickey Rourke won a Golden Globe Award for best actor and was nominated as best actor at the Academy Awards. In my opinion he deserved the Oscar as well. It's a dark and depressing film which at times can really suck the life out of you with it's depiction of lost hope and utter despair, but I urge you to see it purely to watch an astounding tour de force performance.  The film is also incredibly interesting because Mickey Rourke and his character 'The Ram' seem to have had  a very similar path in life. They were both once at the top of their game and both have fallen from grace. I'm sure on a number of occasions between cuts, he stood looking in the mirror wondering if he was really on set or just at home.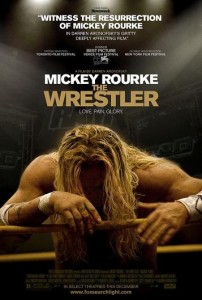 But, here in the real world, we are incredibly lucky that our 'Ram' has climbed up, dusted himself off and made a choice to get back in front of the camera. It would've been a shame if we had never seen this character. I give this one a body-slamming 9/10 for his performance alone and love of his work.
After the success of The Wrestler, things seem to be on the up and up for Mickey… he completed 3 further projects in 2008 and early 2009, and has no less than 7 films coming out in 2010 (including The Expendables and Iron Man 2) and 2 films are already in the pipeline for 2011 (one of them being Rambo 5).
If there's one thing Hollywood loves more than breaking down a hero, it's cheering on a comeback – and this is a chap that I'll be at the front on the ticket queue waiting to see…