by Nick on Sep.15, 2009, under Latest Babble
It's amazing, isn't it? Day to day, life goes on – regardless. For many of us, it's a similar (if not the same) monotonous routine that involves the alarm clock going off at the same time. You drag yourself out of bed and head for the shower. Then, brush your teeth, douse yourself in aftershave and deodorant and comb your hair. Then you grab lunch, kiss the wife and head off to the daily grind. It's a relentless 9 hour work day, until the afternoon, when we get to sit in the traffic for 45 minutes on route to the gym, or straight home. Sit down to do admin, pay the bills, eat dinner, watch TV, scratch the dog and head to bed. Only to do the same damn thing the next day… for 5 days a week… every week… every month… every year for about 40 to 50 years of you life. Holy shit! So what's it all about. Believe me, the person who can honestly give you that answer – is the one who doesn't need to ask another question. The meaning of life? No clue. But where am I going with this? I'll tell you.
Twice in the last few months, I have sat glued to Sky News for an extra 20 minutes of my already tight morning schedule. Normally, I rush against the time on the clock to see who wins. It involves one point to each team (TIME vs NICK) 'for' or 'against', for every minute the other team gains prior to an exact time at which I aim to get out of the house. I am currently 1095 points down and we've only been playing for 3 years. Anyway, as I said before, I have however had no interest in playing the game, for two mornings over the past few months. The first day was the 25th June this year. The second was this morning. Actor, Patrick Swayze, aged 57, died after a long battle with pancreatic cancer. I have realised recently, that life has become so fast that we have become numb to everything else going on around us, that isn't part of our normal routine. We need to stop once and a while, and actually 'feel something'… to remain in touch. This morning, I did.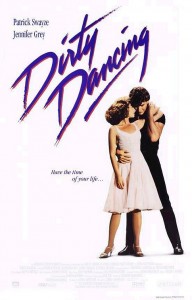 Patrick Swayze is one of those actor's whom in my opinion never really had enough attention paid to him, and that is probably a good thing. Fame in recent years has been less about whom really has talent and excels on the screen, and reserved more for those who can end up on the front page of every major tabloid newspaper. You could achieve this 'fame' by either (1) wearing no underwear whilst leaving a vehicle and then deliberately spreading your legs further apart than the ends of the Golden Gate Bridge, (2) releasing a pathetic 'sex-tape' that you know "nothing" about, (3) snorting cocaine off your boyfriend's penis in front of a nightclub CCTV camera, (4) crashing your limited edition sports car into a tree, whilst a zillion times over the legal alcohol limit or (5) adopting your 40th child from a poor African country. A great deal of talent required indeed!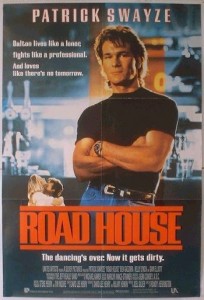 And so, whilst many so called "celebrities' of today do nothing that should even spark an ounce of our attention, I laugh at how many people rush to grab the latest edition of tabloid trash which only ends up fueling idiotic celebrity behaviour to new inconceivable levels. You know who you are – and you are to blame! It's time we started concentrating on more important issues in the news, rather than trying to see who is shagging who, which female celeb has more cellulite, who is and isn't in shape and which teenagers are trying to resemble twigs rather than healthy form.
"The Swayz" didn't ever spend too much time in the news - as don't many of the other truly great actors and actresses of our time. If you haven't read about them for a while, it means they are doing what they do best – what they love. Patrick Swayze did however (and many will be amazed to hear this) make 47 film and TV appearances over his 30 years. A testament to what he loved. He was a superb actor. And, just about everyone who knew him or worked with him said that he was genuinely a very good and kind person. Few and far between in Hollywood, I am sure.
He was born on the 18th August, 1952, in Houston, Texas. His mother was a choreographer at a dance school in the town. He often trained with her. Throughout his schooling, he was an exceptional athlete and excelled in all sports. Two talents, that assisted him in bringing a strong sense of reality, and raw ability to future roles he landed.
The first movie that I ever saw him in was Young Blood alongside Rob Louw. I actually snuck into this film with my cousin when I was only 7 years old. I recall it was about ice hockey, and a young up and comer trying to go pro. He had to contend with team mates who didn't approve of his "me, myself and I" attitude… and his complicated antics off the ice, with his new coaches daughter. It was a typical 80′s film – entertaining. Swayze wasn't the lead, but you could already see that he had talent back then.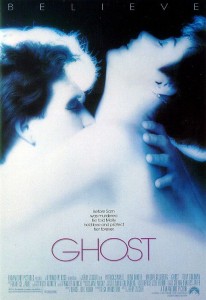 Then of course, we had the film that really threw him into the lime-light and sent young girls hearts racing into over-drive around the world, 1987′s, Dirty Dancing opposite Jennifer Grey. Johnny Castle (Swayze) was a dance instructor at a getaway resort in upstate New York's Catskill Mountains. Grey's character Frances "Baby" Houseman falls in love with him over her family vacation there. The story, without giving too much away, involves her relationship with Johnny and the surrounding events that unfold as they fall deeper in love. It was truly a brilliant and heart warming film, with a soundtrack which still sells year in and year out. It was, in fact, one of the original blockbusters and made a significant amount of money based on it's modest budget. It turned Swayze into an overnight superstar and he became one of the most recognised faces in the world. The film won numerous awards and and was nominated for countless others. It won an Oscar for Best Music and Original Score. Swayze also wrote and performed the song, 'She's Like The Wind', from the movie. If you haven't seen this one, it is highly recommended. You'll have the time of your life.
That success was followed up by a bit of change of pace, with 1989′s Road House – my second favourite film that he made. He starred alongside Sam Elliot (such a classic actor) and Kelly Lynch (from Cocktail). Swayze played Dalton, a professional bar bouncer who has the skills to "cool" things down before they get too rough in the establishments in which he is hired to work. He lands a job in a very tough Road House bar called the 'Double Deuce". There, he tries to stop a group led by the local town's rich thug, who has been tearing up the joint. It wasn't what anyone would confuse as an Oscar winner, but it was the quintessential 80′s action film. Fist-fights, explosions and hot women. It was incredibly entertaining and Swayze was on form, in shape, and gave a commanding and believable performance. The film became an absolute classic and is without a doubt one of the last great films of the crazy 80′s. Ask anyone about 'Road House' and 9 out of 10 will remember it. In fact, if you are that 1 that doesn't, I highly recommend grabbing a copy of the recently released 'Deluxe Edition' DVD – which is loaded with all the special features required to get you up to speed. The film changed bar and club security all over the USA, and you are considered a connoisseur if you can quote the dialogue (and there are a few gem lines in it) scene for scene. Do see it.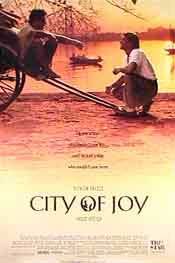 1990 saw Swayze star opposite Demi Moore and Whoopi Goldberg, in what is arguably his most famous film, Ghost. He returned to the genre (with a twist!) that turned him into a superstar. Sam and Molly (Swayze and Moore) are young lovers torn apart after a brutal botched mugging. Sam is murdered but immediately stays on earth as a ghost. The story follows his journey of trying to come to terms with his untimely death and find out why he is still on earth. It's because he has unfinished business. As the story unfolds, Sam finds out that his death was not an accident and someone had him killed. The problem for Sam is to find out who did it, and then how to communicate with the living – as he needs to warn Molly about the danger that awaits her. Sam enlists the reluctant help of spiritualist, Oda Mae Brown, (Whoopi Goldberg). It is without a doubt one of the finest films of 1990 and won Whoopi Goldberg an Oscar. The film also won numerous other awards. It gave a whole new meaning to how you reply when someone says 'I Love You".
And then came my favourite Swayze film, 1991′s Point Break, starring with Keanu Reeves and Gary Busey (an incredibly odd but entertaining actor). Reeves played Johnny Utah. A young, dumb and full of ***, FBI agent who tries to apprehend a group of bank robbers called the ex Presidents (as they wear masks of former President's; Reagen, Carter, Nixon and Johnson whilst robbing banks). His partner, Pappas, played by Busey, has a theory that the robbers are also surfers. Utah goes under-cover, learns to surf, mingles with the locals and tries to infiltrate the different surfing groups. He is befriended by Bodhi (Swayze) and whilst hunting for the gang responsible, starts to enjoy his new friend's spiritual outlook and lifestyle. It starts to cloud his judgement. No doubt a film running on pure adrenalin and an action film of note. Highly entertaining.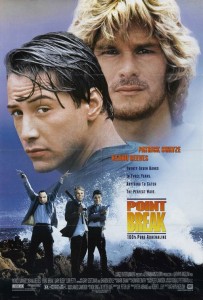 Swayze then went onto a more dramatic piece with 1992′s, City of Joy, set in India. And, followed that with a huge change of genre, as a drag queen (alongside fellow cross-dressers, Wesley Snipes and John Leguizamo) in 1995′s, To Wong Foo Thanks For Everything, Julie Newmar. It was very similar and co-incidently released less than a year after 1994′s hugely successful Australian film, The Adventures of Priscilla, Queen of the Desert, to which it's theme and style shared a number of tones. Essentially, Too Wong Foo, was about a group of drag queens who take a cross country trip. Their car breaks down in a very small and conservative town. At first they are frowned upon, but eventually their charm turns the towns folk's initial impressions and they begin to accept their new visitors. Interesting film. Very different.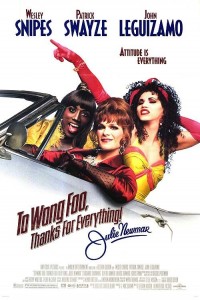 In 1998, Swayze returned in Black Dog, opposite Meat Loaf and Randy Travis. He played an ex-con, Jack Crews, who takes a job driving a truck across the country for Red (Meat Loaf) in order to make some quick cash, to pay the bank to stop foreclosure of his home. What he doesn't know is that the pay load is full of an illegal arms shipment. He now has the FBI hot on his tail, plus Red's boys following him to ensure the load reaches it's destination and his own safety to worry about. There is also the lurking legend of a driver, who stays behind the wheel for too long, coming head to head with a 'Black Dog' in his path. This was probably in the critics mind, the lowest point of Swayze's cinematic career. For action fans, it's an entertaining 90 minutes.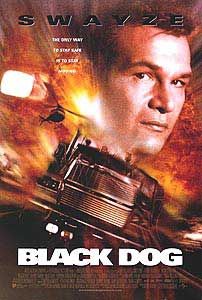 Swayze's last memorable film appearance for me, was 2001′s Donnie Darko, where he played Jim Cunningham. A very funny character, in an otherwise dark and disturbing film. He then went on to film a made for TV version of King Solomon's Mines, in South Africa in 2004. It was another telling of the H. Rider Haggard novel and received very good reviews.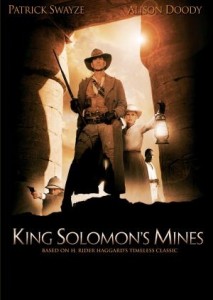 His final performance, followed the tragic news in January 2008, that he had terminal cancer. He chose to continue fighting his affliction and to continue working.  He received critical acclaim across the board, for his performance as Charles Barker in TV's 2009 series, "The Beast", where he played a veteran FBI agent under surveillance from within the unit he works. In early 2009, he was asked a question when accepting the recurring role in 'The Beast', … "How do you nurture a positive attitude when all the statistics say that you are a dead man?", to which he replied, "You go to work."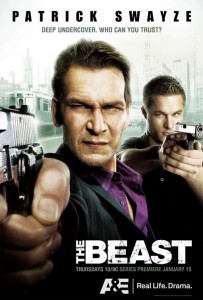 Swayze is survived by his long time love, Lisa Niemi, whom he married in 1975. They were together for 34 years.
So in the end, after a few ups and a few downs over the years in film, a legend has passed. He is responsible for some of the most memorable characters ever brought to the screen and has given us some truly outstanding performances. In early 2009, he wrote a book (his memoirs), "Patrick Swayze : One Last Dance" due for release this year. I will definitely be purchasing a copy.
What is life all about? I still don't know. Some people are born to change the world. Some are just born. Some are going to make a difference and some aren't. You can either love what you do, or live for what you love. There is a massive difference. I'd like to think that's what kept Swayze alive for longer than all the doctors and statistics suggested. Think about it. Life is short. Sometimes, even shorter. Mr. Swayze, thanks for all the entertainment! Gone now, but forever immortalised on film.