by Nick on Sep.18, 2009, under Latest Babble
I recall a few months ago, reading an article in Empire (in my opinion the finest film magazine on the planet) about the 'Citizen Kane' of superhero movies, which was well under-way through production with Warner Brothers, under the guidance of Zack Snyder (he of '300′ directorial fame). I remember thinking that it was quite a statement - comparing it to the grand-daddy of cinema - Citizen Kane - which for those of you who don't know, is considered by many as 'the best movie ever made'. It's on every Top 10 Movie list ever conceived, and is usually in the Top 3. Orson Welles' 1941 film truly has stood the test of time and whilst horribly dated 68 years later… it is still a very special piece of history.  Hearing Charles Foster Kane (Welles) gasp the word 'Rosebud' as he dies in the film, still has an impact on me. Upon reading the article and seeing images of 'cheesy' crime fighting out-fits, coupled with never having read 'The Watchmen' comics, I brushed it off and made no effort to see it. That was a mistake.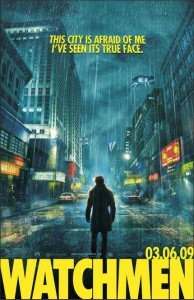 It's no Citizen Kane. Let me get that out of the way right now. It would be like saying that Transformers was the Braveheart of sci-fi… they're too far apart in subject matter. Perhaps the article was referencing another aspect of the film, maybe the actual production. I'm not sure. But, if you take Citizen Kane (as it was back in 1941) as a very fresh, something new and ground-breaking, then we may be moving more along the right track.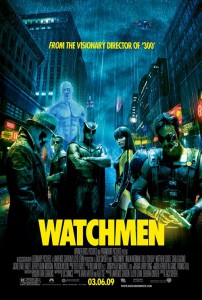 This film really is nothing like Superman, Spider-Man or Batman… it has it's own world. In my opinion, it may be one of the most visually beautiful and gripping films that I have seen. I've heard that fans of the comic series were not 100% impressed or behind it, and maybe that is why I can say I enjoyed it so much. I have nothing to compare it to. In fact, as a rule, I don't read books prior to them being converted. I like to see fresh vision. I take it as though it was made from the ground up. It's an astounding piece of film.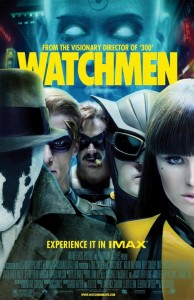 The story is set in an alternate 1985. It's a normal world, as it would be today, just on a different course. Nixon is President, starting his 3rd term in fact. And, most interestingly enough, the USA won the Vietnam war. The won it, with the help of the Watchmen, and Dr. Manhattan. The Watchmen are a group of crime-fighters. They are not superheroes in every sense of the world, because only one of them actually has super powers. So, they definitely are closer to versions of Batman. They get dressed up to fight crime and make use of gadgets and craft to make their job easier. Dr. Manhattan is the only one who has power – which is limitless in every sense of the word. He can do just about anything. He can change size, he can tele-port, he can mind-read, he has kinetic ability, he can duplicate, he has a force-field, etc.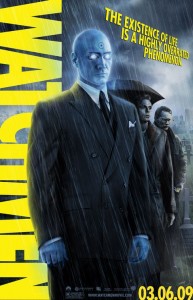 Dr. Manhattan, was previously just a normal doctor, Jon Ostermen (Billy Crudup), but a botched experiment turned him into this blue God-like figure who now works with and for the government. His old associates have names like The Comedian (a brilliant Jeffrey Dean Morgan), Silk Spectre (Carla Gugino), Silk Spectre II (Malin Akerman), Nite Owl II (Patrick Wilson), Nite Owl (Stephen McHattie), Ozymandias (Matthew Goode) and Rorschach (the finest performance in the film, Jackie Earle Haley). Over the years, the group changed and evolved, but the crew above were essentially a team for a while. The government then passed a law which called for them to be disbanded. They no longer fight crime.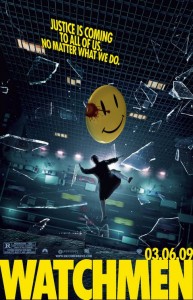 The film has simply the finest opening of a movie I have ever seen. For me, it had always previously been the opening to Reservoir Dogs (the diner conversation), but I challenge anyone to offer me a more comprehensive and entertaining start to a film that the opening of Watchmen. Over the opening minute you are brought right up to speed with the entire history of the Watchmen and significant events (actual history) that shaped the USA. It's set to some incredible music, which is something else the film has going for it. The awesome cinematography and imagery is enhanced by a brilliant soundtrack.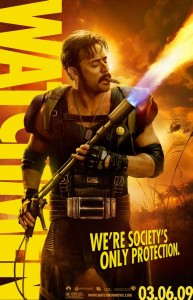 The Comedian is murdered, and the menacing and sceptical Rorschach (wanted by the authorities because he is still active – a vigilante for lack of a better word) believes the Watchmen are being knocked off. The events are happening around a looming nuclear war between the USA and Russia, and Rorschach believes the Watchmen are being taken out because that way, they are unable to stop the threat. He investigates and tries to touch base with his former team to warn them. They are all in separate worlds and believe he may be paranoid until they all realise that even Dr. Manhattan believes something sinister may be looming. He is actually pre-occupied with designing and finishing a project with Ozymandias (retired superhero and now 'smartest man in the world') which may actually alleviate the nuclear threat. But, he is having problematic visions which are unclear which he believes means that something terrible is going to happen. The team, or what's left of them, reform to find those responsible.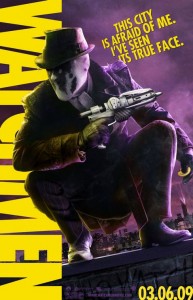 The film is very complex, and the above 'quick-note' does the film no justice whatsoever, but it's the basic plot. There are numerous sub-plots which develop the characters (and flash-backs to show their past) beautifully. Every actor and actress does a wonderful job and taking into account the subject matter, screen-writing and how I'm sure many of the scenes had to be filmed (green-screens, etc) they are excellent. Nobody phones the performance in… and Jackie Earle Haley deserves an Oscar. His performance (and career – he only returned to acting recently of a very long hiatus) is masterful. As an extra piece of info - he was recently cast as Freddy Kruger in the Nightmare on Elm Street remake from Platinum Dunes (Michael Bay). From this performance, I can tell he is going to be terrifying villan.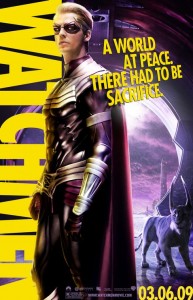 The film is going to require you to open your mind. If you go into this expecting any of the recent superhero movies of the past 9 years (Spiderman, Batman, X-Men, Hulk, etc) you are going to be disappointed. Although, I will say, that it probably shares some of it's closest undertones with The Dark Knight. It has that same darker and gloomy feel. Everythings looks black, charcoal and brown in colour until the superheroes arrive in their colourful outfits. It can be a tense film, and there is always a brooding air of the unfamiliar, with danger around every corner turned. There is nothing predictable, which is something I loved because every scene brings something new. It keeps you interested. Having said that, there are a number of great action set pieces and whilst the Watchmen don't all have super-powers, they are all lethal weapons.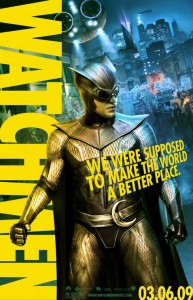 At almost 3 hours, it's a long film (something else it shares with The Dark Knight) but it never feels tedious. I urge those who are sceptical to see it for what it is… and remember, it's not 2009… it's 24 years ago… 1985! That helps.
So, it's not Citizen Kane, but we knew that already. It is a very entertaining film, with a great story and very colourful (in both senses of the word) characters. It also covers all of the major superhero movie requirements. I would say, it is one of the best movies I've seen this year. I liked the fact it put aside copious amounts of mind-numbing action, explosions and fighting to try and be a better film. It doesn't mind being clever. There is also, no doubt that one scene in the film is going to leave you scratching your head – the Nite Owl/Silk Spectre II sex scene in The Owl… set to Leonard Cohen's "Hallelujah". Unbelievable. I'm going to leave it there. It cannot be explained, and maybe that's best. I'm gonna give it an 8/10… for love of something new, for love of superheroes with no super-powers and for love of watching the Watchmen.