by Nick on Jan.28, 2010, under Latest Babble
Wow, 4 months since my last post! Inexcusable… My sincere apologies to the 5 people who read my blog! I'm going to blame it on the fact that I've been very busy at work (and then went on leave), the job that actually pays for me having free time to take part in something that I love. Anyway, time to move on.
I'm going to write a review today, on a movie that I grew up on.  When I say that I probably watched this film once a week, every week, for 3 years whilst growing up… I'm not kidding, maybe more.
In 1985, "Savage" Steven Holland (one of the quirkiest and creative writer/directors around), wrote and directed one of the most enjoyable teen comedies of the 80′s - Better Off Dead.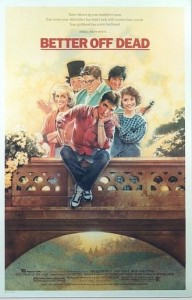 It's the story of Lane Myers (John Cusack – one of my favourite and totally underated actors), a teen who loses his grip on life (and reality) after his world collapses when his girlfriend of 6 months, Beth (Amanda Wyss) breaks-up with him for the town's new more popular ski-jock. It has to be said, nobody can write teens the way Holland does – well, except John Hughes. 
As Lane comes to terms with the break-up, over Christmas, he tries to find a way to get Beth back. This he believes will ultimately be achieved by attempting the K12 (a suicidal ski run above the town) and beating Beth's new love, Roy Stalin (Aaron Dozier) in a race down it. But, at the same time he starts falling in love with the French exchange student who has moved in across the street.
What makes this film work, apart from Cusack's incredibly likable nice guy Lane, are the quirky little stories that take place around him. His issues at school, his various attempts at killing himself, the family battle with the nuisance paper-boy, Lane's daily drag race against two Chinese brothers (one who learned English, and his accent, listening to Howard Cosell), his attempt at finding a job, his lame best friend, his 'dead' Chev Camaro car in the family drive-way… and his nemesis neighbour – Ricky (Daniel Schneider).
The film wouldn't be a Steve Holland special if it didn't have it's very odd moments, and these pop up when you are least expecting. They really are gems to watch (i.e the paper boy's misty night attack and mom's various creative and frightening dinners) as the actors play them in all seriousness.
The supporting cast are also all a joy to watch, and longtime "Savage" favourite, Curtis Armstrong, as "Charles De Mar" is a highlight. He plays Lane's best friend, who offers loads of advice which not even he takes seriously. Rather preferring to snort snow, snort jelly and drink eggnog made from lighter fluid. His folks, played by David Ogden Stiers and Kim Darby are also very funny. As is the fact that Lane's younger brother, Badger Meyer (Scooter Stevens), can pick up 'slutty women' by simply taking tips from a book!
But the best part of the film, is the slowly building relationship between Lane and the new French exchange student living across the street, Monique (Diane Franklin). She has unfortunately ended up staying with the Smith's. The son, Ricky, who is a fat, unpleasant, nerdy and forceful fellow believes that love is blossoming between him and Monique via the unspoken "Language of Love". But in the end, she finds everything she loves about America (and why she chose to visit) in Lane.      
An entertaining film, and whilst those who didn't grow up on it, will find it dated - you cannot help but enjoy some of the classic comedic moments which are still very funny. This one gets a nostalgic 7/10 from me, because every time I watch it…  I remember why I have such a love for the movies.