by Nick on Feb.10, 2010, under Latest Babble
Back in 1992, prior to Pulp Fiction, we were introduced to an exceptional film maker, who literally changed our perception on what film was, how it needed to look and how it needed to be made. There have been numerous copycats, there have been numerous failures. Even those that mimic his style will have to admit that they broke them mould when they made Quentin Tarantino. Fans and critics alike have noted his recent lack of form. Reservoir Dogs was a revelation, Pulp Fiction was a masterpiece and then things got 'average'. Please note that whilst I use the word 'average', Tarantino has a whole separate scale to normal film-makers. 'Average' on anyone else's scale would be 'Golden Globe' material. But, from what we had come to expect from him, it seemed that Pulp Fiction was the best it was ever going to get. But then… Once Upon A Time In Nazi Occupied France…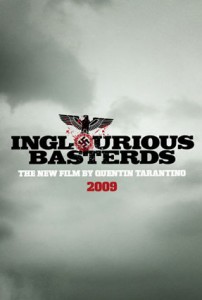 In 1978, Enzo G. Castellari, directed " Quel maledetto treno blindato" or as it was released in the United States – THE INGLORIOUS BASTARDS – please note the spelling. It was, a cult classic, along the lines of The Dirty Dozen, except, their tag line was, "Whatever the Dirty Dozen did, they did it dirtier!". It was made in Italy and starred a few big B-action names from the US – Bo Svenson (Dirty Dozen: The Deadly Mission, Walking Tall) and Fred Williamson (From Dusk Till Dawn)  who was a big player in the 70′s "blaxploitation" genre. The film was about a group of American soldiers who were being sent to prison for various infringements, but who escape when a German attack on their convoy sets them free. They immediately run for Switzerland where they hope to find freedom. Along the way, they end up assisting the French underground in stealing a prized weapon from a heavily guarded German base. It was a thoroughly enjoyable film. And, the premise of the "Bastards" putting their freedom on hold, to link up with the French underground, infiltrate a German base, steal a weapon, get it back to the Allies and ensure they weren't recaptured by their own army made for very entertaining viewing.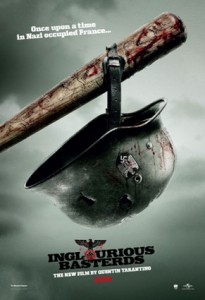 32 years later, Tarantino's version is rather different. And, whilst it borrowed from elements of the original (not the least of which was redesigning the English language for his title), it really is a stand alone film on a completely different playing field. We are introduced to three main characters who lead three separate stories, which by the end of film have intertwined to create what most simply can be described as 'perfect' cinema. We have the German Colonel Hans Landa played by Christoph Waltz (which is the finest performance I have seen by any actor. Ever. Period.) who takes his job very seriously and has a 'knack' for sniffing out Jews in hiding. He is educated. He is meticulous. He is calculated and cunning. He is a very unpleasant fellow. We have Lieutenant Aldo Raine (Brad Pitt), an American soldier who heads up the "Basterds". He also takes his job seriously – and expects anyone under his command to bring him the scalps of 100 Nazi soldiers. He is just as ruthless, and yet not quite as smart as Landa -but always comes through. And finally, Shosanna Dreyfus (played by Melanie Laurent. She escaped the clutches of Landa once before, and started a new life in France, but finds an opportunity to exact revenge on the man (and leadership) who murdered her family. Each of these stories, has a sub-story running along with it, which further intertwines all of them. This is what keeps you glued to the screen.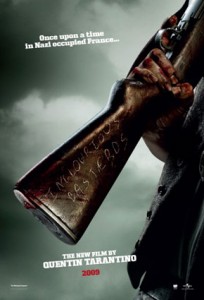 He makes use of four languages (English, German, French and Italian) and the film is heavily subtitled. However, this should not be a deterrent, as all of the actors ability through their actions, expressions and magnificent performances actually translates their speech. It is truly remarkable – you never feel like you are having to read.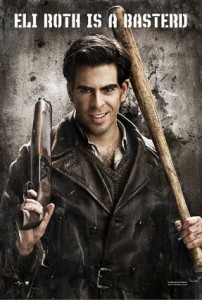 At 2 and 1/2 hours (which feels like only 90 mins) we get to see Tarantino at full force. There are all the great momentsthat we have come to expect from his films; including the interesting sound-track, the voice-over, the flash-back and the "one scene that's hard to watch" (eg. In Reservoir Dogs it was 'Mr. Blonde lends an ear', in Pulp Fiction it was 'Zed and the Gimp' and in Kill Bill it was 'Buck and the tub of Vaseline'. You catch my drift?). In this one, it's the Bear Jew's introduction! (I haven't had to cringed that much since Joe Pesci and 'his brother' kicked it in Casino.)
The film is so brilliantly made, and the actors (no matter how small their parts) are all at the top of their game. The cast is rounded off by more well knowns like Eli Roth, Diane Kruger, Til Schweiger (who impresses me more and more) and Mike Myers (very funny cameo). Listen out for Samuel L. Jackson and Harvey Keitel's voices (both regulars in Tarantino films). Christopher Waltz won the Golden Globe and should win the Oscar. He is really brilliant and deserving – hard to believe he is just an obscure German TV actor. Again – Tarantino may have just jump started another career! He has such a knack for that… (think Travolta and Carradine)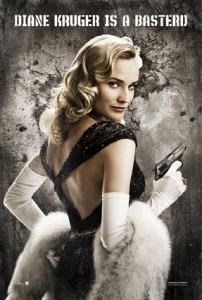 It  is of course violent, and those expecting anything less, should be cautioned. The scalping is vivid – and the Bear Jew is a real slugger. I tried so hard not to watch this film because of 50-50 reviews I had heard from so many different sources. In the end, I decided to see it. I am so glad I did. This may be the best Tarantinofilm ever made – in my opinion it is. In fact, it is essential viewing and is firmly positioned on My Top 10 list. It gets a solid 10/10 and puts a tick next to everything a movie should offer you and everything you should take away from it. This is why I love the movies. Bat' er up! Tarantino is back!