by Nick on Jan.28, 2010, under Latest Babble
I'm going to admit that I was looking so forward to this film, weeks before it was released. Being South African, having been at the World Cup in '95 and having seen my country win… I guess you could say I was running on nostalgia. I saw it twice, and I'm going to say that I really enjoyed it – both times. It was filmed in and around Cape Town and I actually saw one of the scenes being filmed. Furthermore, about 6 guys I went to school with and know rather well, had supporting player roles in the movie. But, on leaving the cinema with a large group of mixed movie enthusiasts – their opinions all differed… and that got me wondering – why?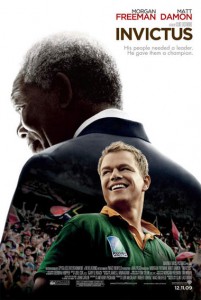 Years ago, I recall having heard that Morgan Freeman was going to play Nelson Mandela in "A Long Walk To Freedom". I remember telling myself then that there wasn't another actor on the planet who was more suited to playing him. I mean, Morgan Freeman, lets be honest - is a truly outstanding actor. He brings to the screen a type of magnetism… you simply want to keep watching him. I think it's his voice. Think of the narration in Shawshank Redemption. It's such a hypnotising speech pattern. Always believable, heart-felt, undeniably interesting and some what soothing. It's the eyes as well, when you look at them, you see truth. He's not an actor who ever 'phones in' his performance. And then, to highlight just some of his filmography… Lean On Me, Driving Miss Daisy, Glory, Robin Hood : Prince of Thieves, Power of One, Unforgiven, Shawshank Redemption, Outbreak, Seven, Kiss The Girls, Amistad, Deep Impact, Along Came A Spider, High Crimes, The Sum Of All Fears, Million Dollar Baby, Batman Begins, An Unfinished Life, Lucky Number Slevin, Gone Baby Gone, The Bucket List, Wanted and The Dark Knight. Morgan as Nelson… to quote Red from Shawshank - 'Goddamn Right!'
So, when it never materialised, I wondered what had happened. Then I caught wind of rumblings on the net about 'The Human Factor" which was based on the novel 'Playing The Enemy' by John Carlin. It was the story of the '95 Rugby World Cup and how newly elected President Nelson Mandela used the event to unite a racially divided country. They spoke of Morgan Freeman playing Mandela. Later it was confirmed, as well as that Matt Damon had been cast as Francois Pienaar (World Cup Winning Captain) and that Clint Eastwood would be directing. Things were definitely on the up and up - two leading Hollywood actors directed by a Hollywood Legend. The film's name had also changed to INVICTUS – which is Latin for INVINCIBLE. It is also the name of an old poem, written by William Ernest Henley, which Mandela read in times of struggle and despair, whilst on Robben Island prison.
A few months later, I'm sitting at home one night, and I get a call from my sister. She's whispering on the phone, "Nick. Can't talk for long. Got to be quiet. Come quick. Mowbray. Park around the Fat Cactus area. Hurry. I'm standing here watching Clint Eastwood direct Morgan Freeman!" Needless to say the wife and I are in the car and on the road, before the phone hits the hook. We watched for about 2 hours as a night scene was filmed. Quite something watching some of your favourite actors in real life. The anticipation was truly starting to build. I couldn't wait.
Later in production, was when I found out that some old school mates, and friends were cast as supporting rugby players for the Springboks, Samoa, Australia and the All Blacks. I knew they were all rugby players, so the realism of the matches was going to be there. Anticipation continued to build.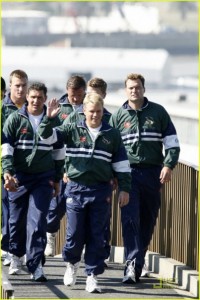 Finally, opening day arrived. The film itself is very well made. The production value is high and the film covers both the sporting and political aspects with equal importance. Morgan Freeman was born to play this role. He is 'Madiba', in an honest portrayal. His speech, which if you have heard Mandela, is more than adequate. It's not easy. He speaks Afrikaans were necessary, and pulls this off as well. He is if anything the reason to see the movie. I hope an Oscar nominee.
Matt Damon buffs himself up to play hardened Springbok Captain, Francois Pienaar. His accent is pulled off well, in fact it's very good. For me it was better than Dicaprio's in Blood Diamond. If you compare the two men in real life; Francois is blond, towering and a very well built fellow, whilst Matt is much shorter – but he dyed his hair and packed on the muscle. I enjoyed, what must have been an in joke in the film, when Francois goes to tea with the President. When asked by one of his associates what Francois is like, one of the secret service men quirks, 'He's shorter in real life".
The rest of the cast of relative unknows, make up the balance of the players in the various visiting teams, and Mandela's entourage of advisors and secret service. Everyone does a very good job, and nobody drops the ball.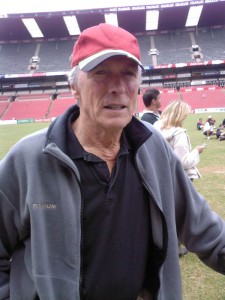 The film opens with Mandela's release, coupled with real news footage of the violence that erupted across South Africa and his inauguration – obviously with Morgan Freeman digitally enhanced into the footage. Clever. Full marks across the board to those responsible for turning the clock back 15 years… and bringing back the realism of everything that was the '95 World Cup. Cotton Traders Jerseys, Elweirda Team Bus, accurate advertising boards in the various stadiums and the correct model/year vehicles back on the roads (bar the latest Range Rover Sport driving past in one of the scenes – think it was Green Point Lighthouse run - if memory serves).  
The film has a couple of very well thought out scenes, which stir real emotion. Mandela's first day in office was for me, one of the best. It depicts everything about this great man's character in a few brief moments. He came to do a job of work. He wants help. He wants his staff, regardless of colour, sex or age, to do the their work to the very best of their ability. He spent 27 years in jail, was then released in 1990 and was the first democratically elected President in 1994. After suffering for that period of time at the hands of the white government, many believed he would come out with a charged animosity and turn 'aparthied' in the opposite direction and oppress the white minority. He didn't. Instead, he began to try and rebuild a peaceful nation, where all races, creeds and colours were free and provided equal rights and opportunities.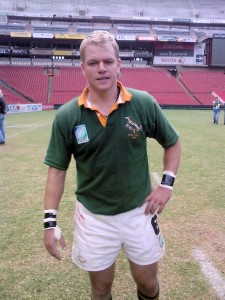 This was always going to be a hard ideology to spread around. Whilst one man – the President - knew it was the only way forward, he had to try and calm down 43 Million people and convince the now majority black population that violence and revenge were not an option. The Springbok emblem had long been seen as a symbol of the oppressive white regime, and for many years blacks had always cheered for the opposing team, regardless of where they were from. One of the first tasks that the new national sports council wanted to do, was remove the emblem and name. Mandela realised that this would only further harm the uniting of black and white, as the Springbok name and emblem was so cherished by white South Africans. He sought to stop the changing of the name, and reassure white South Africans that he was trying to unite and not divide his people even further.   
The story follows Mandela's journey through his first year in office leading up to the World Cup Final, and Francois Pienaar's journey to turn his unsuccessful team into World Cup Champions. The areas of the film where their paths cross are the most enjoyable. Mandela takes an interest in Francois, as he sees another 'leader' trying to lead by example. He essentially backs the Springboks to win the World Cup and begins to inspire both the team (who are mostly very old regime and believe Mandela is still a terrorist) and the nation. At my second most enjoyable part of the film, Madiba wishes the team well at a practice and gives Francois the poem INVICTUS, prior to the final in order to inspire him. Whether Eastwood has chosen to follow the book page by page, is unknown to me, as I have not read it. But the general consensus from many I have spoken to is that the film is honest to the book. It's no spoiler to advise that South Africa win, and the pride and respect that followed victory did a great deal to unite millions of South Africans.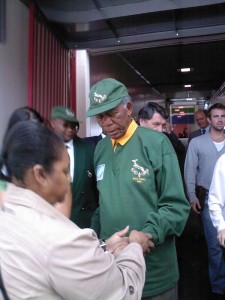 For me, the film was fantastic, and I loved watching some of my favourite actors (and close friends), directed by a Hollywood legend, in my home town. They helped me to relive one of the greatest sporting achievements in South African history. That said, when I asked my fellow movie goers, how they believed the film would be received internationally, many said that didn't believe it would do well. Having giving it a few weeks of thought, and having watched a few other sports films – I know why.
In every sports film; think Chariots of Fire, Remember The Titans, Miracle, Glory Road, Coach Carter, Rudy, The Replacements, Any Given Sunday, etc… there is that moment (the spark) where the team unite, or the coach makes a phenomenal speech, or two rival team mates bond… and you get goose-bumps and finally decide to embrace what you are watching and back the team. That is what is missing from INVICTUS. Particularly on a global scale. As South Africans we have that spark embedded in us, we have it stored away and we can call on it anytime. I know I did. I remembered what it was like watching the final Joel Stransky kick which won us the game. I didn't need the spark. However, you take any of those 8 Hollywood sports movies above and remove the "spark scene" and you are left with an ordinary film. That's where INVICTUS may fall short. Many may perceive it more as a documentary type telling of the story.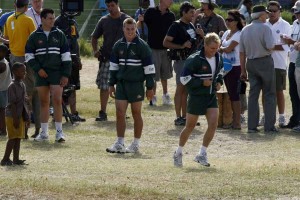 Having said that, it's already had many nominations at the various January awards ceremonies, and we'll know in a few days time if it will be making an appearance at the Oscars. I'm sure it will. And hopefully that bit of advertising alone will garner it a larger following.
For me, it opened up old emotions, and that's what movies are about. The escapism to a new world, or an old place. It scores a winning drop kick for me and gets a 9/10.